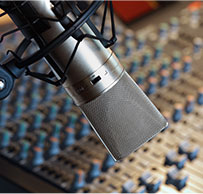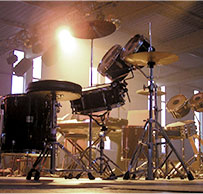 Founded in 1981 by Cy Anderson, Cyrus Sound is a full-service digital and analog recording and production studio specializing in audio post-production and analog tape transfers to digital files. Our goal is to provide the most professional sound and recording services.
Located in Bethel Park, PA, south of Pittsburgh, Cyrus Sound serves as the company name for all of Cy's freelance work. Cy Anderson, the principal of Cyrus Sound, began playing guitar at the age of 10 and has played all styles of music and toured the United States as a professional musician; with 3 solo albums available online from most popular music services (iTunes, Amazon, Google Play, YouTube, Spotify, etc.-just search "Cy Anderson") In 2017 released "Old School Blues" by Anderson-Vosel with guitarist John Vosel (see preview).
Cy is currently an adjunct professor at Point Park University in the Cinema Arts program, and also teaches sound for film at La Roche University and he has also taught at Pittsburgh Technical College. He was a full-time Assistant Professor in Digital Filmmaking and Video Production at the Art Institute of Pittsburgh for over 20 years, and he was formerly Audio Production Engineer for WPGH-TV and also WPXI-TV in Pittsburgh. He is a member of the Society of Motion Picture and Television Engineers (SMPTE), the Audio Engineering Society (AES) and a member of the University Film and Video Association (UFVA). Cy has a B.S. from Penn State, and an M.S.Ed from Duquesne University in Instructional Technology.
Cy did tech work as a house engineer (monitors, FOH and video) at Pepsi Roadhouse in Burgettstown PA. until 2010. The Roadhouse was nominated for a Country Music Association award in 2005 as one of the top 5 country venues in the U.S. Over the years, Cy mixed monitors for Josh Turner, Loretta Lynn, Dierks Bentley, Poco, Josh Gracin, The Georgia Satellites, Atlanta Rhythm Section, The Four Tops, Bobby Blue Bland, Great White, Warrant, Eric Gales, Indigenous and many other acts, national and local. He also ran video for many shows; Kenny Rogers and Little River Band, to name just a few.
PROFESSIONAL RECORDING AND POST PRODUCTION